Emergency Landfill Landing at Fresh Kills
MyFoxNY 1/15/10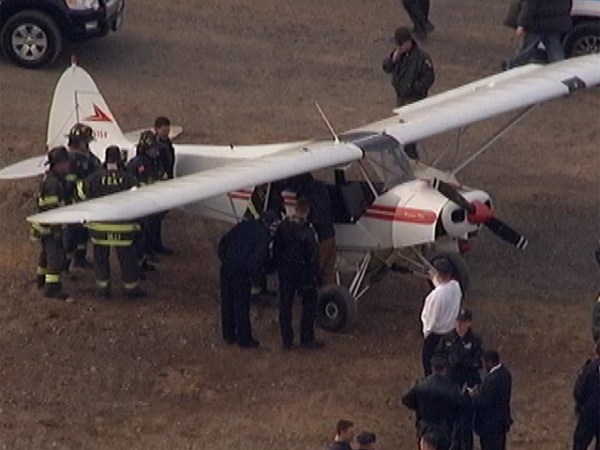 A small plane used for banner advertising made an emergency landing in a New York City landfill on Friday afternoon. The pilot was unharmed, the NYPD said.
It happened about 12:30 p.m. in the old Fresh Kills landfill along West Shore Expressway. It used to be the largest landfill in the United States. Debris from the World Trade Center attacks was brought to the landfill in 2001, but it is no longer active.
Fox 5's SkyFoxHD started looking for a missing plane after Newark Liberty International Airport air traffic controllers requested help locating a plane that dropped off of radar after making a distress call.
SkyFoxHD was over the scene shortly after the single-engine plane went down. It appeared to be in good shape but Kai Simonsen reported from the scene that it appeared there was oil splattered inside the engine compartment.
The pilot appeared to be talking to police officers who responded to the scene. No one else was on board.
The Piper PA 18 is registered to Smoketown Banners LLC, based in New Holland, Pa. The company does aerial banner advertisements.
The plane over the Hudson River when it experienced a cylinder failure, said Jaime Saint, who is from the banner ad company. Saint said the plane had been flying over the festivities on the river commemorating the first anniversary of the so-called Miracle on the Hudson flight.
It was towing a banner that read: "If you died today would you go to heaven or hell? John 14:6."
As with all aircraft mishaps, the Federal Aviation Administration will be investigating, the AP reported.